Maria C. Scott, M.D. (Retired June 2023)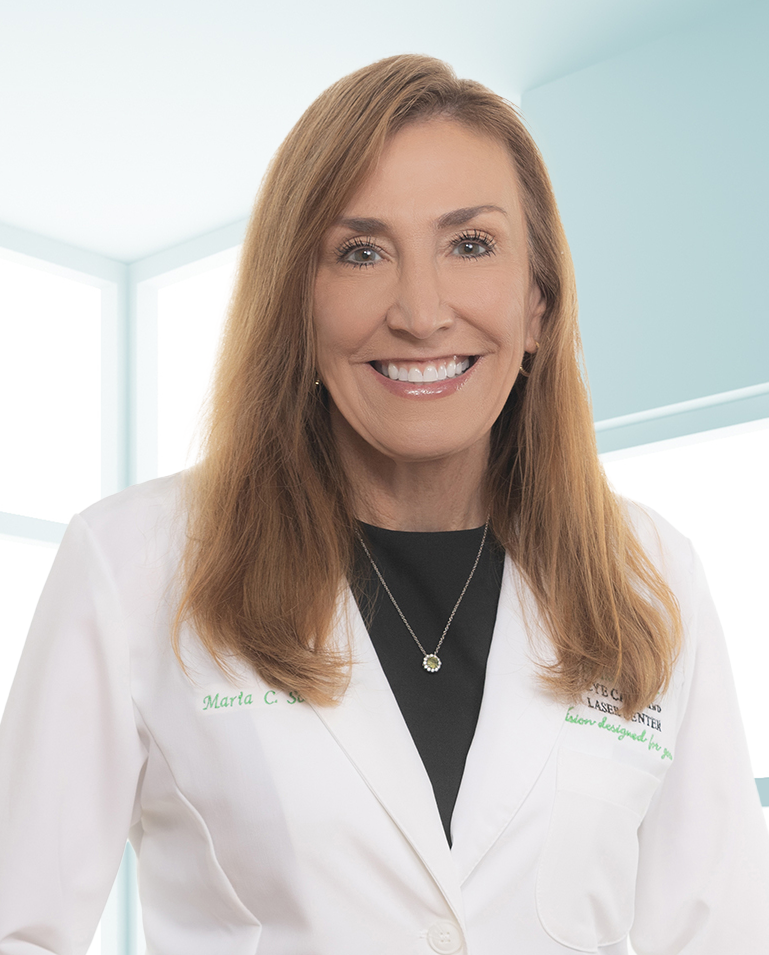 Dr. Maria C. Scott is the founding partner of Chesapeake Eye Care and also one of the founders and board members of Vision Innovation Partners, a leading network of ophthalmology practices in the Mid-Atlantic region. After an astounding career in ophthalmology, Dr. Scott recently retired from clinical and surgical practice in June 2023. Click here to read her farewell letter.
---
Dr. Scott's Previous Background
Dr. Scott is one of the nation's most respected cataract and refractive surgeons and the number of surgeries she has performed places her among the top cataract surgeons in the Mid-Atlantic region and in the top 5 percent of cataract surgeons in the country. A board certified ophthalmologist, Dr. Scott's experience, skill and personal demeanor have earned her great respect among patients as well as colleagues in the medical community.
Dr. Scott's passion to improve her patients' quality of life is evident throughout every aspect of the practice. Always ahead of the curve, she strives to offer the latest techniques and treatments to her patients. Recognized as a leader in her industry, she trains and supervises other ophthalmologists in laser vision correction and cataract surgery, and hosts symposiums throughout the year in order to keep her colleagues abreast of the latest ophthalmic treatments. She is an attending surgeon at Anne Arundel Medical Center and Washington Hospital Center, and shares her experience with other practices around the country.
A graduate of Philadelphia's Jefferson Medical College, Dr. Scott is a member of the prestigious Society for Excellence in Eyecare, an organization of eye care specialists personally selected and recognized for their leadership and innovation and CEDARS/ASPENS, an organization of 75 key opinion leaders in ophthalmology. She is also a member of the American Society of Cataract & Refractive Surgeons, American Academy of Ophthalmology, Ophthalmic Women Leaders, Women in Ophthalmology, the American College of Eye Surgeons and the American-European College of Ophthalmic Surgeons. She also serves on the EyePro GPO Physician Advisory Board.
Dr. Scott is a past president of Outpatient Ophthalmic Surgical Society and has served as a Counselor for the American Academy of Ophthalmology and is a graduate of their Leadership Development Program. She previously served on the board of directors of the Anne Arundel Medical Center Foundation and as a member of the Community Care Network at Anne Arundel Medical Center. She was also a member of the Jefferson Alumni Executive Committee and is a former Board Member of BankAnnapolis.
Accolades from peers in the medical community as well as from patients have brought Dr. Scott numerous awards, including MillennialEYE's "Outstanding Female Leader in Ophthalmology," "Premier Surgeon 300" by Ocular Surgery News, the VISX "Star" Surgeon Award, which is given to the top 100 LASIK surgeons in the country, What's Up? Annapolis' "Top Doc" honors, The Capital Gazette's "Reader's Choice for Ophthalmology," Bay Weekly's "Best of the Bay - Best Place for LASIK," and the Vitals' "Patients' Choice for Top Ophthalmologist."
Dr. Scott, who lives in Annapolis with her husband, two children and teacup poodle, enjoys sailing and waterskiing on the Severn River, travel, snow skiing, tennis, trap shooting, pickleball and golf in her leisure time.
SPECIALTIES
EDUCATION
Washington Hospital Center, Washington, DC, Department of Ophthalmology, Chief Resident
Jersey Shore Medical Center, Neptune, NJ, Internship
Jefferson Medical College, Philadelphia, PA, M.D.
Muhlenberg College, Allentown, PA, B.S.
PROFESSIONAL MEMBERSHIPS
American Academy of Ophthalmology
American College of Eye Surgeons
American-European College of Ophthalmic Surgeons
American Society of Cataract & Refractive Surgeons
CEDARS/ASPENS - Key Opinion Leader Ophthalmology Group
Ophthalmic Women Leaders
Outpatient Ophthalmic Surgery Society
Society for Excellence in Eyecare
Women in Ophthalmology
BOARD AFFILIATIONS
Vision Innovation Partners, Founder and Board Member
EyePro GPO Physician Advisory Board
Anne Arundel Medical Center Foundation, Board Member
Outpatient Ophthalmic Surgery Society, Past President
Collaborative Care Network Membership Committee
Jefferson Alumni Executive Committee
Former Board Member of BankAnnapolis
HONORS & AWARDS
VISX "Star" Surgeon Award (Top 100 LASIK Surgeons in the Country)
Ocular Surgery News "Premier Surgeon 300"
The Ophthalmologist's "Top 100 Female Influencers" (2021)
MillennialEYE "Outstanding Female Leader in Ophthalmology" (2020)
What's Up? Annapolis "Top Doc" (2003, 2005, 2007, 2009, 2011-2012, 2013-2014, 2015-2016, 2017-2018, 2019-2020, 2021-2022)
Chesapeake Family "Favorite Doc" (2011, 2012, 2013, 2014, 2015, 2016, 2017, 2018)
The Capital Gazette "Reader's Choice for Ophthalmology" (2008, 2009, 2010, 2012, 2014, 2016, 2018, 2020)
Bay Weekly's "Best of the Bay - Best Place for LASIK" (2013)
Vitals "Patients' Choice Award for Top Ophthalmologist" (2008, 2009, 2010, 2011, 2012, 2013)
Vitals "Most Compassionate Doctor" (2012, 2013)