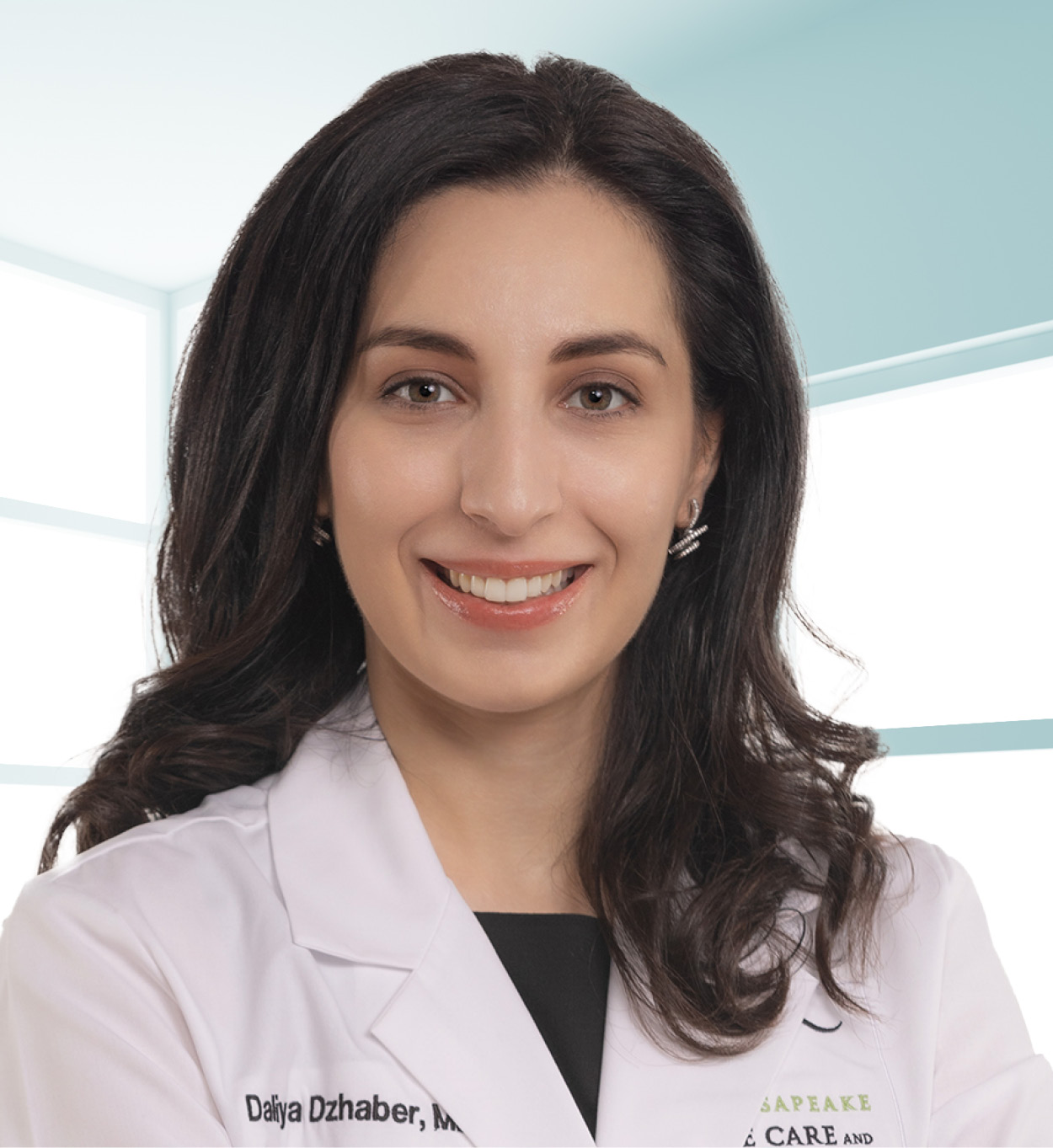 Dr. Daliya Dzhaber, M.D., is a fellowship-trained ophthalmologist at Chesapeake Eye Care and Laser Center who specializes in cataract (including laser cataract surgery), cornea and refractive surgery, as well as uveitis and medical retina. She begins seeing patients in October 2023.
Dr. Dzhaber is originally from Russia, which is where she received her Doctor of Medicine degree, summa cum laude, from Peoples' Friendship University of Russia in Moscow, as well as her ophthalmology residency at The S. Fyodorov Eye Microsurgery Federal State Institution in Moscow where she also served as Chief Resident. From there, Dr. Dzhaber completed a series of fellowships starting with her postdoctoral research fellowship at The Wilmer Eye Institute at Johns Hopkins University School of Medicine in Baltimore, MD. Following this, she completed her Cornea and Refractive Surgery clinical fellowship at the renowned Bascom Palmer Eye Institute in Palm Beach Gardens, FL, ranked number 1 Eye Hospital in the USA; her uveitis clinical fellowship at the University of Washington School of Medicine, Department of Ophthalmology in Seattle, WA; and her medical retina clinical fellowship at the prestigious Duke University in Durham, NC. Dr. Dzhaber's advanced training allows her to manage wide spectrum of ocular diseases.
Dr. Dzhaber is an active member of the American Academy of Ophthalmology, American Society of Cataract and Refractive Surgery, Cornea Society, American Uveitis Society, and American Society of Retina Specialists. Additionally, she has been involved in several peer reviewed publications and presentations at local and international ophthalmological conferences. She has received numerous awards for her work, including Wilmer Eye Institute Research Grant.
Having a passion for teaching next generation of ophthalmologist, she has contributed to several book chapters for Basic and Clinical Science Course, the main resource used by American residents and fellows while in Ophthalmology training.
Dr. Dzhaber, who lives in Edgewater with her husband, enjoys spending time with her family and friends, baking, doing yoga, and building Lego. She is an avid skier and enjoys traveling.
SPECIALTIES
Phakic Intraocular Lenses (EVO ICL)
Diabetic Retinopathy and Diabetic Macular Edema
Macular Degeneration
Central and Branch Retinal Vein Occlusions
Uveitis
EDUCATION & EXPERIENCE
Duke Eye Center, Duke University School of Medicine, Medical Retina Clinical Fellowship, 2023
University of Washington School of Medicine, Department of Ophthalmology, Uveitis Clinical Fellowship, 2022
Bascom Palmer Eye Institute, University of Miami Miller School of Medicine, Cornea Clinical Fellowship, 2021
Wilmer Eye Institute, Johns Hopkins University School of Medicine, Postdoctoral Research Fellowship in Cornea and Anterior Segment Service, 2019
S. Fyodorov Eye Microsurgery Federal State Institution, Ophthalmology Residency, 2016 (Chief Resident)
Peoples' Friendship University of Russia School of Medicine, MD, Summa Cum Laude, 2014
Peoples' Friendship University of Russia Institute of Foreign Languages, Diploma in Medical English Translation, 2013
PROFESSIONAL AFFILIATIONS
American Academy of Ophthalmology
American Society of Cataract and Refractive Surgery
Cornea Society
American Uveitis Society
American Society of Retina Specialists
LANGUAGES
English
Russian
Conversational Arabic